AIRPORT LINE SHUTTLE SERVICE
You will receive an email within 30 November 2022 the QR CODE to present to the AIRPORT LINE van driver. This the email we will ask you the point you need the van to pickup and drop-off, with the GPS of each location:
Central Chiang Mai Airport Department Store

CNX Airport

Tha Phae Gate

Chang Phuak Gate

Eastin Tan Hotel Chiang Mai
=== To Doi Inthanon ===
Ratchaphruek 2007 Hotel

Doiin View Resort

Touch Star Resort

Inthanon Highland Resort

Baan Pornsri Resort

Doi Inthanon Head Office
AIRPORT LINE - Shuttle van route : https://bit.ly/3BYsaVx
Schedule :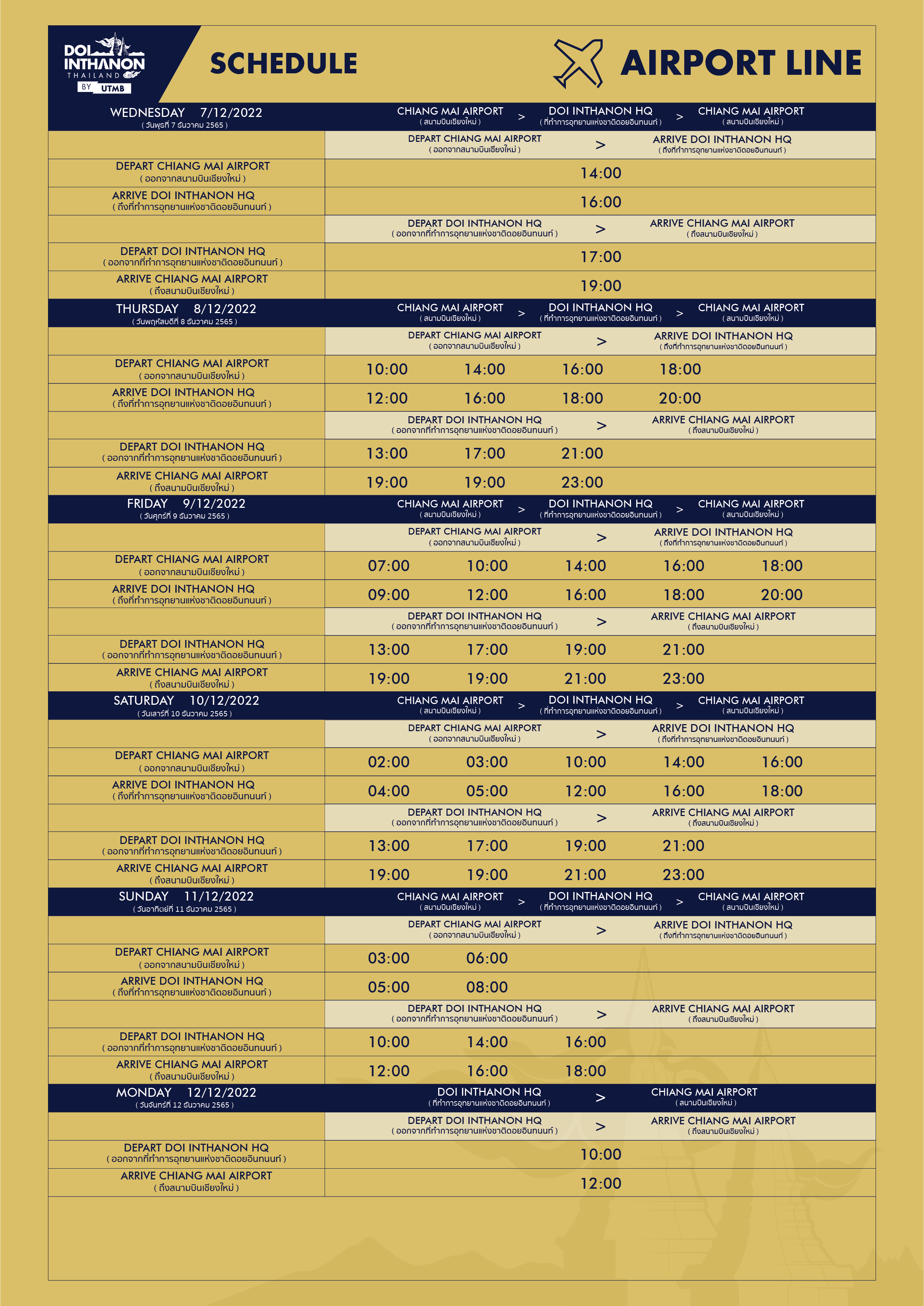 More booking : https://shop.runningconnect.com/product/ditutmb2022-shuttle-pass/
We will allocate 7-8 persons per van. First come first serve. You'll be able to see your booking, the status of each van as well as call center number Airport Line Call center 0813365834 (Operate 7 December 9:00 a.m.)
You will have to present the QR Code to the driver. He will then scan your code. The status on website will updated, and call center will get notified.
We will close the booking from the current website on 4th December 2022 6:00 p.m. , new booking after this will be done via call center Airport Line Call center 0813365834 Operate from 7 December 2022 9:00 a.m. onward.
Any changes in the booking will be done via call center from 7th December 2022 as well. In the case that you wish to change the booking trip because of DNF or any reasons, please check the availability from the website and request for changes in a waiting list.